SALE!

HookAway – Fishing Accessory
Description
"I recently went on a fishing trip and was struggling to remove the hooks from the fish without harming them. That's when I discovered this hook remover. This amazing product is so easy to use and made removing the hooks a breeze! It's a must-have tool for any fishing enthusiast out there!"
⭐⭐⭐⭐⭐  – Ernie H.
 ✅ Verified Buyer
Fishing is a great way to enjoy the outdoors and relax, but removing a hook from a fish can be a painful and tricky task. Prying a hook out of a fish's mouth can be challenging, especially if the hook is deeply embedded. This is a problem that every angler encounters at some point, and it's important to find a solution to prevent potential injuries and enjoy the activity fully.
Introducing HookAway, an innovative product designed to quickly and safely extract hooks from fish, ensuring that the process is less painful for both the angler and the fish. With its compact size and easy-to-use design, it's the perfect addition to any fishing kit and can easily be carried in a tackle box or fishing vest. This hook remover is also equipped with an ergonomic handle to provide a comfortable grip for all-day use.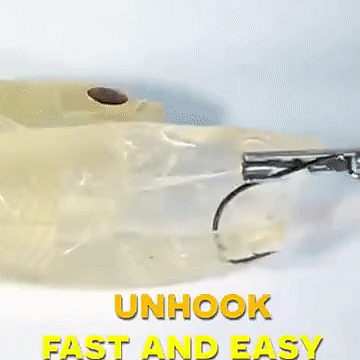 Reasons You'll Love HookAway  
✅ Simple Operation: A straightforward design makes HookAway quick and easy for all anglers, regardless of skill level. Simply insert the tool into the fish's mouth and gently turn to remove the hook with ease.
✅ Safe For Fish: HookAway is designed to remove the hook without causing any damage to the fish's mouth. This means that you can quickly release the fish back into the water without causing harm, ensuring that you can practice responsible angling.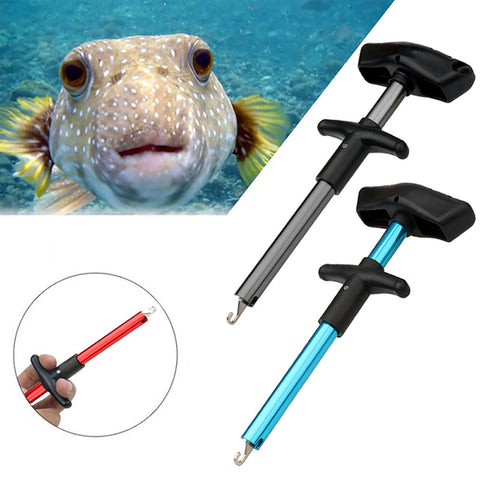 ✅ Ideal for Deeply Embedded Hooks: Designed to have a long nose, HookAway allows anglers to reach deep into the fish's mouth to remove the hook with minimal effort. Have confidence in a hassle-free release with any size fish.
✅ Versatile use: HookAway is suitable for removing hooks from a variety of fish species and sizes, making it an essential tool for any angler. Its compact size also makes it an ideal tool for those who enjoy fishing on the go.
We understand the struggle with removing a hook from a fish's mouth, or worse, accidentally hooking yourself. It can be frustrating and stressful to deal with a flopping fish as you are trying to release it and not cause unnecessary harm. According to the American Journal of Emergency Medicine, fishing-related injuries are common, with many of them being preventable. 
Thankfully, HookAway provides a quick, easy, and painless solution to this problem. With its compact size and lightweight construction at only 1.6 ounces, it's a product that you can rely on for years to come. Designed with a non-slip ergonomic handle this hook remover boasts an array of benefits that every angler can appreciate. Invest in HookAway today and have a more enjoyable and safe fishing experience.
Product Specifications: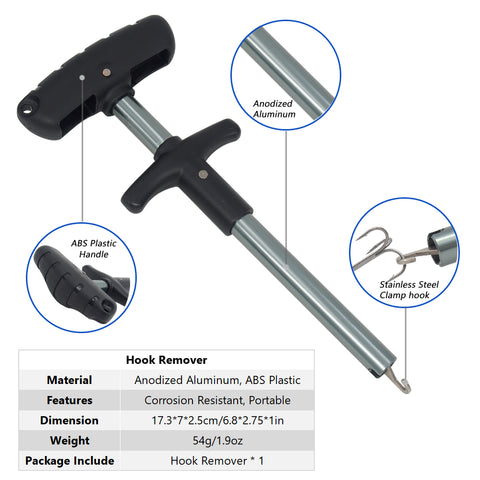 Package Includes:
1 x HookAway Fishing Accessory 
A VectorEvolution Promise
At VectorEvolution, we believe in the quality of our products therefore we offer a 30 Day Money Back Guarantee with no questions asked! When you purchase from us, there is ZERO Risk for you!