SALE!

chainsaw chain sharpener + 5 grind heads
$49.98 – $127.44
Description
Don't let a dull blade slow you down!

The chainsaw chain sharpener makes sharpening your chainsaw much easier and more precise. The chainsaw chain sharpener lets you sharpen your chain on the job. Allowing you to work faster, smarter.
The tool comes with everything you need to sharpen your saw. Included is a durable carry case with shoulder strap and belt loop. The carbide cutters used with the chainsaw chain sharpener are interchangeable and are purchased separately.
Why use it?
🔶

PRECISION MAINTENANCE:
Every time you grind a tooth, you only need to pull the chain. This ensures that every tooth is repaired!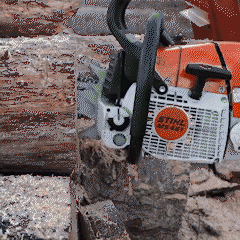 🔶

EASY TO USE:
The sharpener is easy to use. Just set the clamp to the rod, position the pawl on the tooth, insert the burr into the guide sleeve, and turn the handle.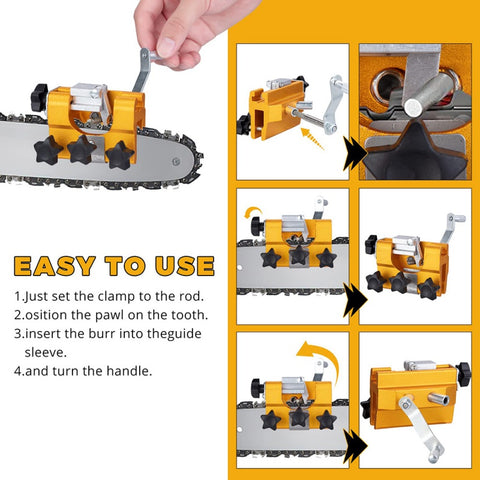 🔶

FAST SECURE APPLICABILITY:
The new chain jagged knife grinding equipment provides a simple and fast method for sharp chains. Clean the chainsaw in 2-4 seconds. The chainsaw sharpening tool is lightweight, easy to carry outdoors, and protects the hand from harm.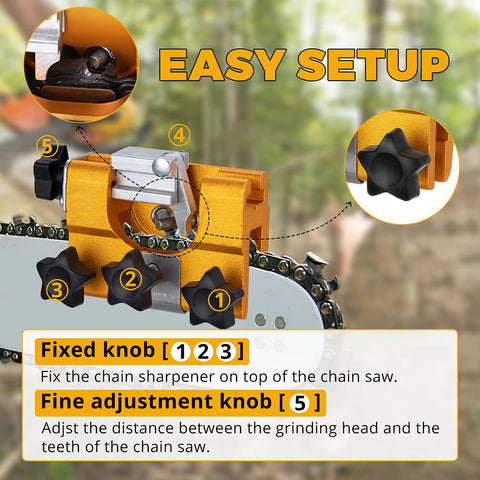 🔶

EXTENSIVE APPLICATION:
Standard 30° sharpened front angle, anodized aluminum fixture with a detachable crank and a set of guide bushings. Hence, can be used for 12"-20" chain saws.