SALE!

Cat Tunnel Bed
$45.99 – $66.99
Description
🐾 A private hideaway your cat has been longing for 🐈 For small & large cats.
🐾 Sleep: safe, secure & relaxation spots.
🐾 Hide: hide in the tunnel & peek from the hole.
🐾 Play: happy zoomies in the tunnel.
🐾 Reduce the cat's boredom.
🐾 Finally something that is actually gorgeous.
Why Cat Bed Cave was designed:
Our four-legged kids were born with a lack of mental safety. To feel comfortable and protected, they tend to go to a corner or hide somewhere. Unlike other cat toys, our kittens' bed is well-designed for any cat toy to play with and also has a decent cat house to sleep in, providing a secure and natural experience similar to playing with the holes and tunnels.
Donut Design
The circle design was intended to suit the wants and wishes of cats that like to play by drilling holes. It may provide cats with hours of entertainment.
Multi-Fonctionnal
Our creative dual-purpose design won two awards for design. This cat cave may also be used as a playground for one or more cats to play hide and seek on a large, circular hiding track. Your kittens can also sleep in a cosy, enclosed bed that is comfy and cool in the summer and warm in the winter.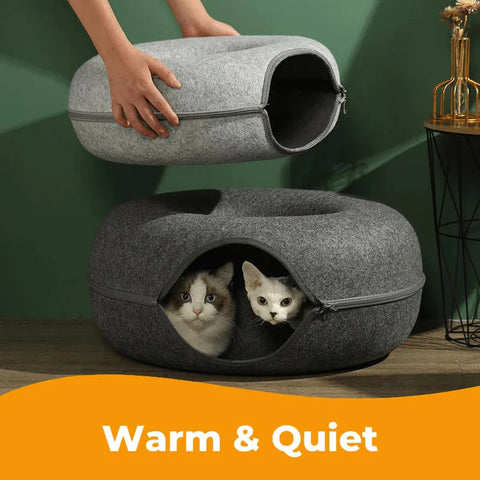 High Quality Materials
Felt material is comfortable, the surface is soft and firm, the comfortable and safe bed is made of high-quality outer felt and inner short-haired PV fleece. The ultra-soft inner lining reduces pet anxiety and creates a sense of security and warmth.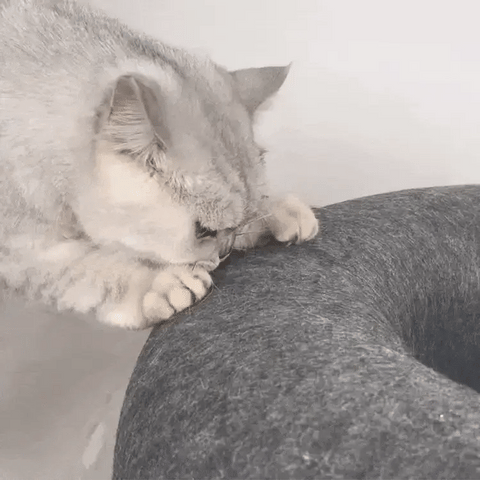 Easy-To-Clean
Cats may play in a clean and pleasant environment thanks to the zipper separation design, which makes it possible to clean every nook and cranny inside the tunnel. We can manage the cats more simply because to the straightforward assembling process.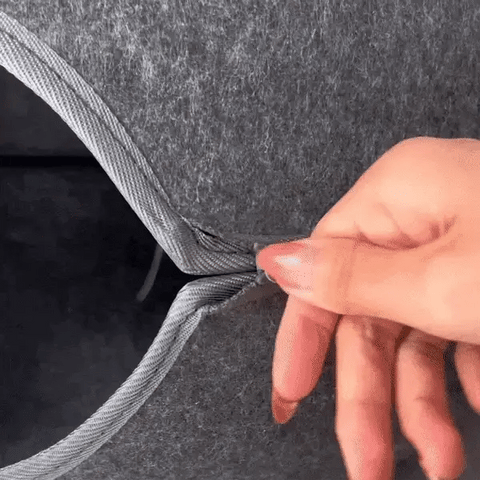 Product Details
– Small Size:
– Height: 7.8" | 20cm.
– Diameter: 19.5′ | 50cm.
– Tunnel width: 7" | 18cm.
– For small cats around 2-9 pounds.
– Large Size:
– Height: 11" | 28cm.
– Diameter: 23.6" | 60cm.
– Tunnel width: 7.4" | 19cm.
– For small & large cats around 8-17 pounds.
FAQ's
Is this felt made from animal wool or synthetic fiber?
In order to ensure that the cat nest does not collapse and does not deform when the cat is playing, the felt we used is made of polypropylene and polyester, which does not contain animal wool, the cat bed is absolutely safe and durable for your cats.
How many cats fit in the small?
The top of the cat bed fits one cat to rest and the tunnel part can be used for two cats to chase and play, depending on your cat's personality. And the small one fits cats up to 9lbs.
How to wash it?
For daily care, you can use wet wipes to clean.
When you need to wash, the washing directions for the cat bed are:
1. Please hand wash, not machine wash
2. Wash in cold water, water temperature not higher than 110℉
3. Do not scrub
4. Air dry, do not expose to the sun.