SALE!

Description
"CUTTING A BABY'S FINGERNAILS IS EASY" – NO SAD PARENTS EVER!

DO YOU FEAR CUTTING YOUR CHILD'S NAILS?
We created the Royal Angels™ Electric Baby Nail Trimmer for those parents like ourselves who struggle with a squirmy child. 
Our nail trimmer is specifically designed to safely and quickly trim and polish little toe and fingernails for both babies as well as adults. It is super soft and will not damage cuticles or nail beds.
No need for nail clippers, no need to fear cutting a babies little finger with nail clippers. Safe and easy trimmers for newborn nails or adults.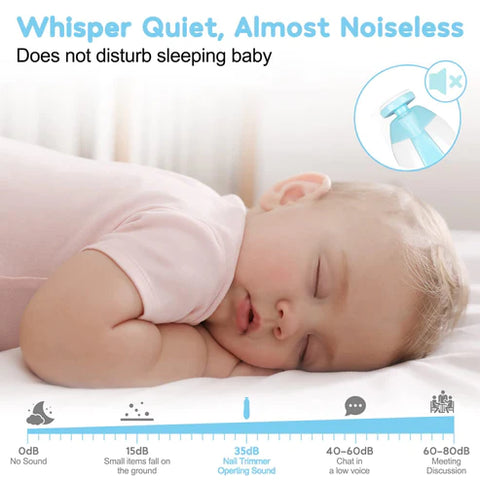 WHY OUR NAIL TRIMMER IS THE BEST ON THE MARKET! 
Safe: This nail trimmer won't damage cuticles or soft nail beds, so you can safely and quickly trim and polish little toenails and fingernails.
Quiet: Boasting an LED front light and whisper-quiet motor, you can trim their nails while they're sleeping without them ever knowing.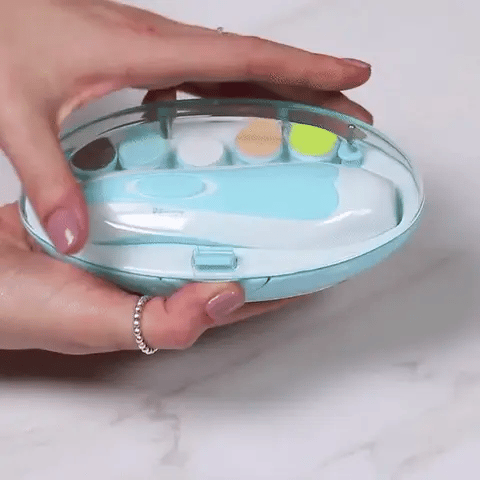 LED Light: Help you safely trim your baby's nails.
Multipurpose Tool: Use it for you or your baby. Achieve perfect cuts every time.
Multiple Settings: Control speed (high/low) and rotation (clockwise/reverse) to enhance nail trimming positions for softer & smoother nails.
Lightweight, Compact Design: Made with a one-button design and powered by 2 AA batteries, this is the perfect parent's or baby's gift for home or travel use.

THIS NAIL TRIMMER MAKES A PERFECT BABY SHOWER GIFT!🎁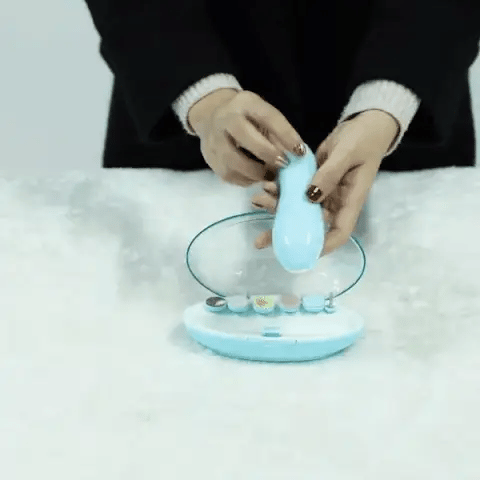 NAIL CUTTING MADE EASY: Royal Angels electric nail files are designed to SAFELY and QUICKLY trim and polish little toe and fingernails for both BABIES and ADULTS. It is super soft and will NOT DAMAGE cuticles and nail beds.
20 in 1 VALUE SET: Each set comes with 6 cushioned sandpapers file attachments for babys nails, and 4 file attachments for adults nails. BONUS: 8 EXTRA replacement emery file pads!! You will NEVER NEED TO BUY replacement sandpaper/file!!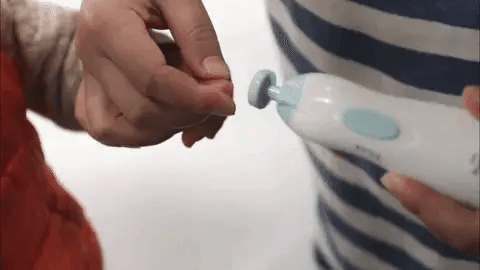 30 DAYS FULL REFUND & 18 MONTHS Service– Royal Angels offers 30 days refund for any reason if you are not satisfied with our products. Along with the premium materials and quality, we are also providing a 18 months Service with any purchase. We are here to help if you need to contact us at any means.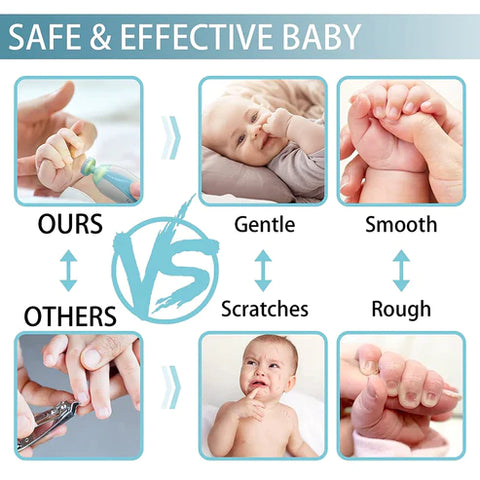 WHISPER QUIET & LED LIGHTED: The nail file is powered by a powerful but WHISPER QUIET motor. With a LED light aimed at fingernails, you can trim your babys nail even while they are asleep!
PORTABLE AND EASY TO USE DESIGN: These nail files are super EASY TO USE with only 1 button to control speed and rotation (clockwise/reverse). Powered by two AA batteries, it can sustain for long time usage. Each set comes with a travel case for easier storage and portability.